Detective Boys of Masangkay: Ang Mangkukulam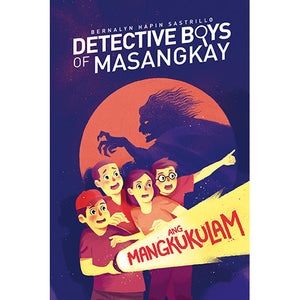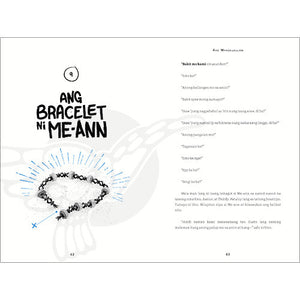 Product image 1
Product image 2
Product image 3
Regular price
₱280.00
Sale price
₱350.00
Story by Bernalyn Hapin Sastrillo
Illustrations by Borg Sinaban
Ate Lotlot's pet cat is missing, and so is Junjun's puppy. Aling Cora's laundry has been stolen. Mang Jimmy's fighting cocks have been killed. The famous Shino Kid has been kidnapped. There is a witch. There is a new girl in town.
There are three young boys who love Detective Conan. They will solve all the mysteries surrounding Barangay Masangkay.
Nawawala ang alagang pusa ni Ate Lotlot at ang alagang tuta ni Junjun. Ninakaw ang mga sinampay ni Aling Cora. Pinatay ang mga panabong na manok ni Mang Jimmy. Na-kidnap ang sikat na Shino Kid. May isang mangkukulam. May isang dalagitang bagong lipat.
May tatlong binatilyong fans ni Detective Conan. Sila ang lulutas sa lahat ng misteryong bumabalot sa Barangay Masangkay.
ISBN: 978-971-508-608-0
Published: 2016
Language: Filipino
Age Recommendation: 9+
216 pages | 300 grams | 6 by 9 inches