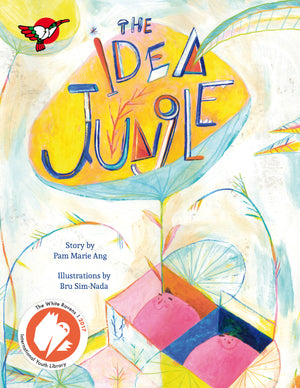 Product image 1
Product image 2
Product image 3
Regular price
₱108.00
Sale price
₱135.00
Story by Pam Marie Ang
Illustrations by Bru Sim-Nada
2017 White Raven (International Youth Library)


Happy ideas.
Round ideas.
Sharp ideas.
Deeper and deeper into the jungle they went...
ISBN: 978-971-508-561-8
Published: 2015
Language: English
Age Recommendation: 6+
36 pages | 140 grams | 8.5 by 11 inches
Citation from the International Youth Library:
Miko and Rico enjoy sharing ideas: funny, weird, exciting, thought provoking, marvellous ideas. But when Rico comes up with the most brilliant one ever, it just disappears! So the brothers set out in search of it, ultimately venturing deep into the place where all lost thoughts go: the idea jungle. When the boys finally recover Rico's brilliant idea, they don't share it with the reader. After earning a degree in Communications Technology Management in Manila, author Pam Marie Ang studied and worked in Beijing, Xiamen, and Hong Kong. With her debut book she encourages readers to chase down their own ideas, no matter how crazy, silly, impossible, or elusive they might seem. Bru Sim-Nada produces graphic designs, illustrations, and "strange creations" in her Manila-based studio Electrolychee. Her wonderfully wild and wacky creations for this picture book engulf large portions of the English text – or is it the text that infiltrates the illustrations?